Business Manager 365 is not a modular system, but a tightly integrated Business Management Software that is designed to help you manage your business seamlessly. It was built specifically for service professionals, and comes with a mobile app for techs who are in the field. Your business management software subscription provides full integration so you receive all the features and functionality of the software.
Liberty One Software understands that everyone's needs are different, so we have come up with three licensing models that provide a varying ability to control and manage the software.
Role Based Pricing
Volume Licensing
Enterprise Licensing
The Liberty One Software sales team will help you decide which licensing model is best for your organization.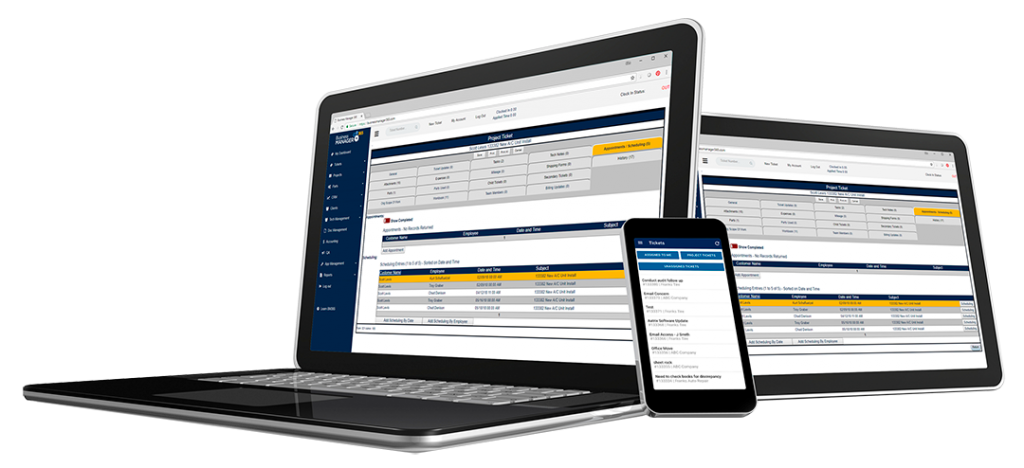 The Named-User license option is a great option for balancing ease of deployment, use and cost. The four seat options allow you to decide the level of access required for each user. Reducing the need to setup specific permission at the time of deployment – simply configure your users, assign them the level of permissions they need and go!
For On-Premise Installation pricing of Business Manager 365, please give us a call at 877-284-5733, or send us an email and we will contact you soon.
Montlhy Contract

Field Personnel

Montlhy Contract

Office Staff

$

14.95

Per Month

Montlhy Contract

Power User

$

19.95

Per Month

Montlhy Contract

Administrator

$

29.95

Per Month

Annual Contract

Field Personnel

Annual Contract

Office Staff

$

12.95

Per Month

Annual Contract

Power User

$

17.95

Per Month

Annual Contract

Administrator

$

27.95

Per Month
Both Monthly & Annual Contracts Include:
FIELD PERSONNEL

OFFICE STAFF

POWER USER

ADMINISTRATOR

Employee Dashboard

Time & Attendance

Service Ticket

Mobile App

Tech Management

View Rights

Edit Rights

Conflict Management Rights

Parts and Asset Management

View Rights

Order Management

Order Approvals

Document Management

View Rights

Edit Rights

Delete Rights

Reporting

Day-to-Day

Management

Global Operations

Project Management

View Rights

Edit Rights

Client Management

View Rights

Limited Edit Rights

Full Rights

CRM

View Rights

Edit Rights

Accounting

AR/AP Functions

Receive Time Off Requests *

Receive Overtime Requests *

Edit/Create Employee

Time Clock Edits

App Management

User Management

Software Configurations

Software Support **
* Feature is not required to be configured for every user setup with this license.
** $199/month hosting fee.
I have to pay for annual maintenance/support?
Yes, software maintenance fees are standard in the software industry there are many reasons that companies charge for maintenance such as; to keep the software current with the ever changing business environment, client requests for changes or modifications to the software to enhance its overall value, to insure that it remains compatible with third party applications such as QuickBooks, Microsoft products, changes in operating systems and web based technologies.
Why do I need maintenance/support?
There are many reasons that paying for maintenance benefits you and all the customers of Business Manager 365. The maintenance fees also help with fixing workflow issues within the software, corrective fixes, technology enhancements, long term sustainability and usability of the software, research and development and testing of the product to insure outstanding performance.
What's included in the maintenance/support?
This depends on the level of maintenance and support that you choose which are listed under the support plans.
What can go wrong if I don't maintain your software?
Business Manager 365 is a version based software and although upgrades are not required without the maintenance and support plans in place the software will become static and you wouldn't benefit from new technologies and new features of the system.